Indian corn
Also found in:
Thesaurus
,
Medical
,
Encyclopedia
,
Wikipedia
.
Indian corn
n.
2. Dried ears of corn having colorful, usually variegated kernels, usually hung in a cluster for decoration.
Indian corn
n
(Plants) another name for
maize
1
In′dian corn`
n.
2. any primitive corn with variegated kernels.
Indian corn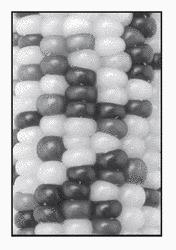 At the beginning of the twentieth century the term Indian corn was still used by some to refer to what is now called corn but, in some locales, the name Indian corn was applied only to those ears with red or blue kernels that were occasionally found mixed in with the more usual yellow or white kernels. Such colors are not found when hybrid seed corn is used.
Thesaurus
Antonyms
Related Words
Synonyms
Legend: