hame
Also found in:
Thesaurus
,
Medical
,
Acronyms
,
Encyclopedia
,
Wikipedia
.
hame
(hām)
n.
One of two curved wooden or metal pieces of a harness, usually padded, that form a collar around the neck of a draft animal and to which the traces are attached.
---
hame
(

heɪm

)

n

(Agriculture) either of the two curved bars holding the traces of the harness, attached to the collar of a draught animal

[C14: from Middle Dutch hame; related to Middle High German hame fishing rod]
---
hame
(

hem

)
hame
(heɪm)
n.
either of two curved pieces lying upon the collar in the harness of an animal, to which the traces are fastened.
[1275–1325; Middle English < Middle Dutch]
Hame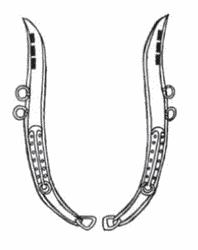 One of two pieces of curved tubular steel or iron-bound wood that fitted around a harness collar and to which a trace was attached. Sometimes, for decoration, the top of the hame terminated in a flattened brass ball about two inches in diameter.
Thesaurus
Antonyms
Related Words
Synonyms
Legend:
Noun
1.
hame - stable gear consisting of either of two curved supports that are attached to the collar of a draft horse and that hold the traces

collar

- a band of leather or rope that is placed around an animal's neck as a harness or to identify it