hoop snake
Also found in:
Thesaurus
,
Wikipedia
.
hoop snake
n.
In folklore, a kind of snake that grasps its tail in its mouth and moves with a rolling, hooplike motion.
hoop snake
n
(Animals) any of various North American snakes, such as the mud snake (Farancia abacura), that were formerly thought to hold the tail in the mouth and roll along like a hoop
Hoop snake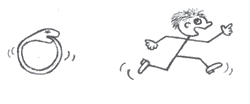 A hoop snake could take its tail in its mouth, form itself into a hoop, and roll along the ground at tremendous speed. Hoop snakes rolling along were to be absolutely avoided since they could easily outrun a boy and had a deadly stinger on the end of their tail that was dart-like and could be shot out for a considerable distance. The stinger was actually nonpoisonous, nondetachable, and of a horn-like material about one-eighth inch long. In truth, of course, the whole behavior was the figment of someone's active imagination. Raymond L. Ditmar's 1939 North American Snakes suggested that the origin of the myth lay in the fact that instead of coiling, this particular snake sometimes formed itself into a circle when resting.
Thesaurus
Antonyms
Related Words
Synonyms
Legend:
| | | |
| --- | --- | --- |
| Noun | 1. | hoop snake - any of various harmless North American snakes that were formerly believed to take tail in mouth and roll along like a hoop |