chamber pot
(redirected from Guzunder)
chamber pot
n.
A portable vessel used in a bedroom as a toilet.
chamber pot
n
1. a vessel for urine, used in bedrooms
cham′ber pot`
n.
a portable container for urine and defecation, used in bedrooms.
[1560–70]
Chamber pot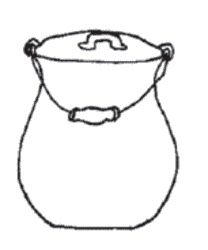 A pail with a capacity of about two gallons, and a tight-fitting lid. The pot was kept in the bedroom at night and used to minimize the necessity of going to the outhouse.