Harness snaps
Harness snaps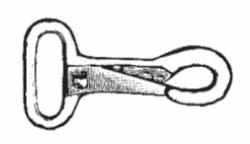 Iron snaps used to connect various leather
Harness
straps to harness rings.
References in periodicals archive
?
If it still flunks, make sure the head
harness snaps
back when stretched.
And there they are lowered to dangle a few feet below the protective cage before the
harness snaps
open to drop you like a stone in free-fall into a huge net more than 100ft below.