sadiron
Also found in:
Wikipedia
.
sadiron
(

ˈsædˌaɪən

)

n

a heavy iron pointed at both ends, for pressing clothes

[C19: from sad (in the obsolete sense: heavy) + iron]
sad•i•ron
(ˈsædˌaɪ ərn)
n.
a flatiron that is pointed at both ends and has a detachable handle.
Sadiron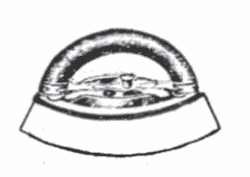 A
Flatiron
pointed at both ends and having a removable handle. Usually the irons were sold in groups of three, along with one handle. Such irons had no internal heating element and were usually heated on top of the kitchen stove. While one iron and its handle was being used for ironing, the other two could be heating on the stove.