Studebaker
Also found in:
Wikipedia
.
Stu·de·ba·ker
 

(sto͞o′də-bā′kər, styo͞o′-)

, Clement 1831-1901.

American manufacturer who founded a family business (1852) that became the world's largest maker of horse-drawn vehicles and later produced automobiles.
Studebaker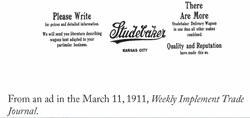 Originally a wagon manufacturer, but in the 1920s started making automobiles. The last Studebaker built in the U.S. (South Bend, IN) was in 1964.