clothes pin
Also found in:
Thesaurus
,
Wikipedia
.
Clothes pin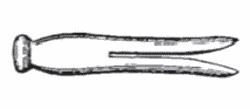 A clamp used to hold clothes on a clothesline. In the early 1900s most of them were made by cutting a long slot in a wooden dowel about a half-inch in diameter and few inches long. Later, most of them were small clamps made of two pieces of wood and a metal spring. That same design is still used in the twenty-first century, but generally with plastic rather than wood parts, for keeping plastic bags closed.
1001 Words and Phrases You Never Knew You Didn't Know by W.R. Runyan Copyright © 2011 by W.R. Runyan
Thesaurus
Antonyms
Related Words
Synonyms
Legend:
| | | |
| --- | --- | --- |
| Noun | 1. | clothes pin - wood or plastic fastener; for holding clothes on a clothesline |
Based on WordNet 3.0, Farlex clipart collection. © 2003-2012 Princeton University, Farlex Inc.