cowpoke
Also found in:
Thesaurus
,
Medical
,
Financial
,
Encyclopedia
,
Wikipedia
.
cow•poke
(ˈkaʊˌpoʊk)
n.
a cowboy or cowgirl.
[1880–85]
Cowpoke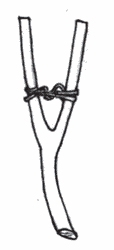 1. A contrivance hung about a cow's neck to make it difficult for the cow to crawl through a fence. The poke was usually made of a light tree limb fork about three feet long. Factory-made models of iron straps were also available.
2. A colloquial expression for cowboy.
Thesaurus
Antonyms
Related Words
Synonyms
Legend:
Noun
1.
cowpoke - a hired hand who tends cattle and performs other duties on horseback

buckaroo

,

buckeroo

,

vaquero

- local names for a cowboy (`vaquero' is used especially in southwestern and central Texas and `buckaroo' is used especially in California)

gaucho

- a cowboy of the South American pampas

roper

- a cowboy who uses a lasso to rope cattle or horses
cowpoke
[ˈkaʊpəʊk]
N
(
US
) →
vaquero
m