beam
(redirected from endbeam)
Also found in:
Thesaurus
,
Medical
,
Encyclopedia
.
beam
(bēm)
n.
1. A squared-off log or a large, oblong piece of timber, metal, or stone used especially as a horizontal support in construction.
2.
Nautical
a. A transverse structural member of a ship's frame, used to support a deck and to brace the sides against stress.
b. The breadth of a ship at the widest point.
c.
The side of a ship:
sighted land off the starboard beam.
3.
Informal
The widest part of a person's hips:
broad in the beam.
4. A steel tube or wooden roller on which the warp is wound in a loom.
5. An oscillating lever connected to an engine piston rod and used to transmit power to the crankshaft.
6.
a. The bar of a balance from which weighing pans are suspended.
b. Sports A balance beam.
7. The main horizontal bar on a plow to which the share, coulter, and handles are attached.
8. One of the main stems of a deer's antlers.
9.
a. A ray or shaft of light.
b.
A concentrated stream of particles or a similar propagation of waves:
a beam of protons; a beam of light.
10. A radio beam.
v. beamed, beam·ing, beams
v.intr.
1. To radiate light; shine.
2. To smile expansively.
v.tr.
1.
To emit or transmit:
beam a message via satellite.
2.
To express by means of a radiant smile:
He beamed his approval of the new idea.
Idiom:
on the beam
1. Following a radio beam. Used of aircraft.
2. On the right track; operating correctly.
---
beam
(

biːm

)

n

1. (Building) a long thick straight-sided piece of wood, metal, concrete, etc, esp one used as a horizontal structural member

2. (General Engineering) any rigid member or structure that is loaded transversely

3. (Nautical Terms) the breadth of a ship or boat taken at its widest part, usually amidships

4. a ray or column of light, as from a beacon

5. a broad smile

6. (Crafts) one of the two cylindrical rollers on a loom, one of which holds the warp threads before weaving, the other the finished work

7. (Zoology) the main stem of a deer's antler from which the smaller branches grow

8. (Agriculture) the central shaft of a plough to which all the main parts are attached

9.

(General Physics) a narrow unidirectional flow of electromagnetic radiation or particles:

a beam of light

;

an electron beam

.

10. (General Physics) the horizontal centrally pivoted bar in a balance

11. (Anatomy) informal the width of the hips (esp in the phrase broad in the beam)

12. a beam in one's eye a fault or grave error greater in oneself than in another person

13. (Navigation) not following a radio beam to maintain a course

14. informal wrong, mistaken, or irrelevant

15. (Navigation) following a radio beam to maintain a course

16. (Nautical Terms) nautical opposite the beam of a vessel; abeam

17. informal correct, relevant, or appropriate

vb

18. to send out or radiate (rays of light)

19.

(Broadcasting) (

tr

) to divert or aim (a radio signal or broadcast, light, etc) in a certain direction:

to beam a programme to Tokyo

.

20. (Computer Science) to pass (data, esp business card details, etc) from one hand-held computer to another by means of infrared beams

21. (intr) to smile broadly with pleasure or satisfaction

[Old English beam; related to Gothic bagms tree, Old High German boum tree]

beamed adj

ˈbeaming adj, n

ˈbeamless adj

ˈbeamˌlike adj

ˈbeamy adj
beam
(bim)
n.
1. any of various relatively long pieces of metal, wood, etc., used esp. as rigid members or parts of structures or machines.
2. a horizontal bearing member, as a joist or lintel, or a transverse supporting structural member on a ship.
3. the extreme width of a ship.
4. Slang. the measure across both hips or buttocks.
5.
a. (in a loom) a roller or cylinder on which the warp is wound before weaving.
b. a similar cylinder on which cloth is wound as it is woven.
6. the crossbar of a balance from which the scales or pans are suspended.
7. a ray or stream of light or other radiation, as gamma rays, electrons, or subatomic particles.
8. a group of nearly parallel rays.
9. a radio signal transmitted along a narrow course, used to guide pilots.
10. a radiant smile.
11. the principal stem of the antler of a deer.
v.t.
12. to emit in or as if in beams or rays.
13. to transmit (a radio or television signal) in a particular direction.
14. to direct (a radio or television program, commercial message, etc.) to a predetermined audience.
v.i.
15. to emit beams, as of light.
16. to smile radiantly or happily.
Idioms:
on the beam,
a. on the course indicated by a radio beam.
b. Informal. correct; exact.
[before 900; Middle English beem, Old English bēam tree, post, ray of light, c. Old Frisian bām, Old High German boum, Old Norse bathmr]
Beam
a ray or collection of parallel rays.

Examples: beam of comfort, 1742; of glory; of heat, 1860; of light rays; of sunlight; of truth, 1674.
beam

Past participle: beamed
Gerund: beaming


Beam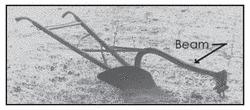 The beam is attached to the bottom of a
Walking turning plow
, extends to the front, and is terminated with a
Plow clevis
, to which an
Evener
or
Doubletree
can be attached. The beam may be of either wood or steel, depending on when the plow was manufactured, or in some cases, on the intended kind of soil to be plowed. In the horse-drawn era, if the plow was likely to catch on rocks or stumps and there were enough horses pulling it to bend a steel beam, it was often preferable to have a breakable and more cheaply replaced wooden beam.
Thesaurus
Antonyms
Related Words
Synonyms
Legend:
Noun
1.
beam - a signal transmitted along a narrow path; guides airplane pilots in darkness or bad weather
2.
beam - long thick piece of wood or metal or concrete, etc., used in construction
3.
beam - a group of nearly parallel lines of electromagnetic radiation

cathode ray

- a beam of electrons emitted by the cathode of an electrical discharge tube

particle beam

- a collimated flow of particles (atoms or electrons or molecules)

4.
beam - a column of light (as from a beacon)

heat ray

- a ray that produces a thermal effect

high beam

- the beam of a car's headlights that provides distant illumination

low beam

- the beam of a car's headlights that provides illumination for a short distance

5.
beam - (nautical) breadth amidships

ship

- a vessel that carries passengers or freight

6.
beam - the broad side of a ship; "they sighted land on the port beam"

side

- an extended outer surface of an object; "he turned the box over to examine the bottom side"; "they painted all four sides of the house"

7.
beam - a gymnastic apparatus used by women gymnasts
Verb
1.
beam - smile radiantly; express joy through one's facial expression

smile

- change one's facial expression by spreading the lips, often to signal pleasure

2.
beam - emit light; be bright, as of the sun or a light; "The sun shone bright that day"; "The fire beamed on their faces"

beat down

- shine hard; "The sun beat down on the hikers"

glare

- shine intensely; "The sun glared down on us"

outshine

- shine brighter than; "What star outshines the sun?"

shimmer

- shine with a weak or fitful light; "Beech leaves shimmered in the moonlight"

blaze

- shine brightly and intensively; "Meteors blazed across the atmosphere"

winkle

,

twinkle

,

scintillate

- emit or reflect light in a flickering manner; "Does a constellation twinkle more brightly than a single star?"

3.
beam - express with a beaming face or smile; "he beamed his approval"
4.
beam - broadcast over the airwaves, as in radio or television; "We cannot air this X-rated song"

satellite

- broadcast or disseminate via satellite

interrogate

- transmit (a signal) for setting off an appropriate response, as in telecommunication

5.
beam - have a complexion with a strong bright color, such as red or pink; "Her face glowed when she came out of the sauna"
6.
beam - experience a feeling of well-being or happiness, as from good health or an intense emotion; "She was beaming with joy"; "Her face radiated with happiness"

feel

,

experience

- undergo an emotional sensation or be in a particular state of mind; "She felt resentful"; "He felt regret"
beam
verb
2.
transmit, show, air, broadcast, cable, send out, relay, televise, radio, emit, put on the air
The interview was beamed live across America.
beam
noun
1. A large, oblong piece of wood or other material, used especially for construction:
verb
2.
To curve the lips upward in expressing amusement, pleasure, or happiness:
شُعاع
شُعَاع
عارِضَةٌ خَشَبِيَّهعَرضُ السَّفينـهيُرْسِلُ أشِعَّة
paprsekšířkatrámvysílatzářit
stråletransmitterebjælkedæksbjælkesende
sädetyvivalinvarsiaisa
zraka
gerendalegnagyobb hajószélesség
geisliljóma brosabjálki, bitibreiîasti hluti skipsgeisla; senda út, útvarpa
笑顔
환한 미소
laivo plotisnušvistisijaskleistispindulys
baļķisbimssraidītsijasmaidīt
grindă
trám
tramžarek
bjälke
ลำแสง
tia
beam
[biːm]
A. N
B.
VT
1.
(=
transmit
) [+
signal
] →
emitir
beam down (Science Fiction)
A.
VT + ADV
→
teletransportar
B.
VI + ADV
→
teletransportarse
beam up (Science Fiction)
A.
VT + ADV
→
teletransportar
B.
VI + ADV
→
teletransportarse
beam
n (of light, X-rays, etc.) haz m