felloe
Also found in:
Thesaurus
,
Encyclopedia
.
fel·loe
(fĕl′ō)
American Heritage® Dictionary of the English Language, Fifth Edition. Copyright © 2016 by Houghton Mifflin Harcourt Publishing Company. Published by Houghton Mifflin Harcourt Publishing Company. All rights reserved.
felloe
(

ˈfɛləʊ

) or
felly
n
,
pl
-loes
or
-lies
(Automotive Engineering) a segment or the whole rim of a wooden wheel to which the spokes are attached and onto which a metal tyre is usually shrunk
[Old English felge; related to Old High German felga, Middle Dutch velge, of unknown origin]
Collins English Dictionary – Complete and Unabridged, 12th Edition 2014 © HarperCollins Publishers 1991, 1994, 1998, 2000, 2003, 2006, 2007, 2009, 2011, 2014
fel•loe
(ˈfɛl oʊ)
also felly
n.
the part of the rim of a wheel into which the outer ends of the spokes are inserted.
[before 900; Middle English felwe, Old English felg(e)]
Random House Kernerman Webster's College Dictionary, © 2010 K Dictionaries Ltd. Copyright 2005, 1997, 1991 by Random House, Inc. All rights reserved.
felly, felloe - The felly or felloe is the exterior rim on a wheel or the section of rim supported by a spoke.

Farlex Trivia Dictionary. © 2012 Farlex, Inc. All rights reserved.
Felloe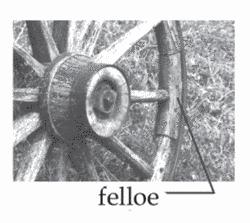 Each segment of a ring of wood just inside the iron tire of a wagon wheel was called a felloe,
Fellow
, or
Felly
. Sometimes there were only two felloes per wheel, with each of them made of a long piece of wood bent into a semicircular shape. Other wheel designs used several shorter felloes per wheel, with each felloe being cut to shape rather than being bent.
1001 Words and Phrases You Never Knew You Didn't Know by W.R. Runyan Copyright © 2011 by W.R. Runyan
Thesaurus
Antonyms
Related Words
Synonyms
Legend:
Noun
1.
felloe - rim (or part of the rim) into which spokes are inserted

rim

- the outer part of a wheel to which the tire is attached

wheel

- a simple machine consisting of a circular frame with spokes (or a solid disc) that can rotate on a shaft or axle (as in vehicles or other machines)
Based on WordNet 3.0, Farlex clipart collection. © 2003-2012 Princeton University, Farlex Inc.