felloe
Also found in:
Thesaurus
,
Encyclopedia
.
felloe
(

ˈfɛləʊ

) or
felly
n
,
pl
-loes
or
-lies
(Automotive Engineering) a segment or the whole rim of a wooden wheel to which the spokes are attached and onto which a metal tyre is usually shrunk
[Old English felge; related to Old High German felga, Middle Dutch velge, of unknown origin]
fel•loe
(ˈfɛl oʊ)
also felly
n.
the part of the rim of a wheel into which the outer ends of the spokes are inserted.
[before 900; Middle English felwe, Old English felg(e)]
felly, felloe - The felly or felloe is the exterior rim on a wheel or the section of rim supported by a spoke.
Felloe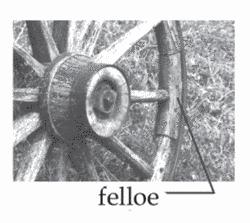 Each segment of a ring of wood just inside the iron tire of a wagon wheel was called a felloe,
Fellow
, or
Felly
. Sometimes there were only two felloes per wheel, with each of them made of a long piece of wood bent into a semicircular shape. Other wheel designs used several shorter felloes per wheel, with each felloe being cut to shape rather than being bent.
Thesaurus
Antonyms
Related Words
Synonyms
Legend: