flatiron
Also found in:
Thesaurus
,
Wikipedia
.
flat·i·ron
(flăt′ī′ərn)
n.
An iron for pressing clothes, especially one that is heated externally, as on a hearth or stove.
flatiron
(

ˈflætˌaɪən

)

n

(formerly) an iron for pressing clothes that was heated by being placed on a stove, etc
flat•i•ron
(ˈflætˌaɪ ərn)
n.
[1735–45]
Flatiron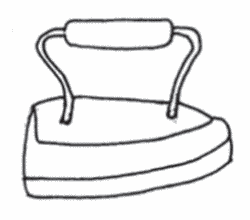 A heatable hand-held iron tool with a smooth bottom surface that was used to smooth or press cloth. Unlike later irons heated by electric elements, flatirons were heated by setting on a stovetop. Also, see
Sadiron
.
Thesaurus
Antonyms
Related Words
Synonyms
Legend:
Noun
1.
flatiron - an iron that was heated by placing it on a stove

smoothing iron

,

iron

- home appliance consisting of a flat metal base that is heated and used to smooth cloth
flatiron
[ˈflætˌaɪən]
N
→
plancha
f