forge
Also found in:
Thesaurus
,
Medical
,
Legal
,
Financial
,
Acronyms
,
Idioms
,
Encyclopedia
,
Wikipedia
.
forge 1
(fôrj)
n.
1. A furnace or hearth where metals are heated or wrought; a smithy.
2. A workshop where pig iron is transformed into wrought iron.
v. forged, forg·ing, forg·es
v.tr.
1.
a. To form (metal, for example) by heating in a forge and beating or hammering into shape.
b. To form (metal) by a mechanical or hydraulic press.
2.
To give form or shape to, especially by means of careful effort:
forge a treaty; forge a close relationship.
3.
To fashion or reproduce for fraudulent purposes; counterfeit:
forge a signature.
v.intr.
1. To work at a forge or smithy.
2. To make a forgery or counterfeit.
---
[Middle English, from Old French, from Vulgar Latin
*faurga
, from Latin
fabrica
, from
faber
,
worker
.]
---
forge′a·bil′i·ty n.
forge′a·ble adj.
forg′er n.
---
forge 2
(fôrj)
intr.v.
forged
,
forg·ing
,
forg·es
1.
To advance gradually but steadily:
forged ahead through throngs of shoppers.
2.
To advance with an abrupt increase of speed:
forged into first place with seconds to go.
---
forge
(

fɔːdʒ

)

n

1. (Metallurgy) a place in which metal is worked by heating and hammering; smithy

2. (Metallurgy) a hearth or furnace used for heating metal

3. (Metallurgy) a machine used to shape metals by hammering

vb

4. (Metallurgy) (tr) to shape (metal) by heating and hammering

5. (Metallurgy) (tr) to form, shape, make, or fashion (objects, articles, etc)

6. (Metallurgy) (tr) to invent or devise (an agreement, understanding, etc)

7. (Metallurgy) to make or produce a fraudulent imitation of (a signature, banknote, etc) or to commit forgery

[C14: from Old French forgier to construct, from Latin fabricāre, from faber craftsman]

ˈforgeable adj

ˈforger n
---
forge
(

fɔːdʒ

)

vb

(

intr

)

1. to move at a steady and persevering pace

2. to increase speed; spurt

[C17: of unknown origin]
forge1
(fɔrdʒ, foʊrdʒ)
v.
forged, forg•ing.
n.
v.t.
1. to form by heating and hammering; beat into shape.
2.
to form or make, esp. by concentrated effort; fashion:
to forge a treaty.
3. to imitate (handwriting, a signature, etc.) fraudulently; make a forgery of.
v.i.
4. to commit forgery.
5. to work at a forge.
n.
6. a fireplace, hearth, or furnace in which metal is heated before shaping.
7. the workshop of a blacksmith; smithy.
[1250–1300; Middle English < Old French
forgier
< Latin
fabricāre
to fashion; see
fabricate
]
forge′a•ble, adj.
forge2
(fɔrdʒ, foʊrdʒ)
v.i.
forged, forg•ing.
1. to move ahead slowly; progress steadily.
2. to move ahead with increased speed and effectiveness (usu. fol. by ahead).
[1605–15; orig. uncertain]
forge
- Comes from Latin fabrica, "trade, workshop" or "fabric," and it first meant "smithy" or "manufacture."
forge

Past participle: forged
Gerund: forging


Forge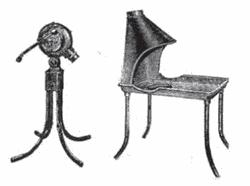 A small, open furnace that burned coal and was supplied with forced air from a bellows or handoperated blower. The forge was used by blacksmiths to heat iron enough (generally a red heat) to be shaped or welded. The left item in the illustration is a blower. To the right is a forge. Air from the blower was piped to the bottom of the forge so it could flow up through the burning coal.
Thesaurus
Antonyms
Related Words
Synonyms
Legend:
Noun
1.
forge - furnace consisting of a special hearth where metal is heated before shaping

furnace

- an enclosed chamber in which heat is produced to heat buildings, destroy refuse, smelt or refine ores, etc.

2.
forge - a workplace where metal is worked by heating and hammering

anvil

- a heavy block of iron or steel on which hot metals are shaped by hammering

Verb
1.
forge - create by hammering; "hammer the silver into a bowl"; "forge a pair of tongues"

hammer

- beat with or as if with a hammer; "hammer the metal flat"

beat

- shape by beating; "beat swords into ploughshares"

foliate

- hammer into thin flat foils; "foliate metal"

dropforge

- forge with a dropforge; "drop-force the metal"

2.
forge - make a copy of with the intent to deceive; "he faked the signature"; "they counterfeited dollar bills"; "She forged a Green Card"

re-create

- create anew; "Re-create the boom of the West on a small scale"

3.
forge - come up with (an idea, plan, explanation, theory, or principle) after a mental effort; "excogitate a way to measure the speed of light"
4.
forge - move ahead steadily; "He forged ahead"
5.
forge - move or act with a sudden increase in speed or energy

go

,

locomote

,

move

,

travel

- change location; move, travel, or proceed, also metaphorically; "How fast does your new car go?"; "We travelled from Rome to Naples by bus"; "The policemen went from door to door looking for the suspect"; "The soldiers moved towards the city in an attempt to take it before night fell"; "news travelled fast"

6.
forge - make something, usually for a specific function; "She molded the rice balls carefully"; "Form cylinders from the dough"; "shape a figure"; "Work the metal into a sword"
7.
forge - make out of components (often in an improvising manner); "She fashioned a tent out of a sheet and a few sticks"

make

- make by shaping or bringing together constituents; "make a dress"; "make a cake"; "make a wall of stones"

tie

- make by tying pieces together; "The fishermen tied their flies"

craft

- make by hand and with much skill; "The artisan crafted a complicated tool"

tailor-make

,

sew

,

tailor

- create (clothes) with cloth; "Can the seamstress sew me a suit by next week?"
forge
1
verb
1.
form, build, create, establish, set up, fashion, shape, frame, construct, invent, devise, mould, contrive, fabricate, hammer out, make, work
They agreed to forge closer economic ties.
---
forge
2
verb
forge ahead
progress quickly, progress, make headway, advance quickly
He began to forge ahead with his studies.
forge 1
verb
2. To create by forming, combining, or altering materials:
3. To make a fraudulent copy of:
---
forge 2
verb
أتون ، كور الحِدادَه
يُزَوِّرُ
يُزَوِّريَسيرُ قُدُما، يَتَقَدَّم بِثَباتيَصْهَر، يَسْبِك
padělatpostupovat vpředvýheňkovárnakovat
forfalskegøre fremskridtsmedesmedjeefterligne
takoaväärentääahjopaja
krivotvoriti
berjast áframeldstæîi í smiîjufalsasmíîa viî eld; móta
鍛造する
단조하다
ēzeizvirzīties priekšgalākaltkurtuveviltot
falšovaťkuťukuťvyhňa
ponarediti
kämpa sig fram
ปลอมแปลง
làm giả
forge
[ˈfɔːrdʒ]
vt
[+
metal
] →
forger
forge ahead
vi
→
aller de l'avant, prendre de l'avance
to forge ahead with sth (=
go ahead with
) [+
project
] →
aller de l'avant dans qch
(=
make progress with
) →
faire des progrès dans qch
forge
vt
(= counterfeit)
signature, banknote
→
fälschen
forge1
(

foːdʒ

) noun verb
---
forge2
(

foːdʒ

) verbˈforgery – plural ˈforgeries – noun
---
forge3
(

foːdʒ

) verb
forge
vt. falsificar, falsear