go-devil
Also found in:
Encyclopedia
,
Wikipedia
.
go-dev·il
(gō′dĕv′əl)
n.
1. A logging sled.
2. A railway handcar.
3. A jointed tool for cleaning an oil pipeline and disengaging obstructions.
4. An iron dart dropped into an oil well to explode a charge of dynamite.
go′-dev`il
n.
1. a sled used to drag or carry logs, stone, etc.
2. a field cultivator that rides on wooden runners and is used on listed furrows.
[1825–35, Amer.]
Go-devil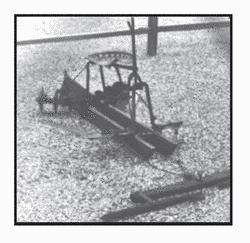 Another name for a sled-lister cultivator. The name go-devil was also sometimes applied locally to various other farm implements.