Grease cup
Also found in:
Encyclopedia
.
grease cup
n
(Mechanical Engineering) a container that stores grease and feeds it through a small hole into a bearing
Collins English Dictionary – Complete and Unabridged, 12th Edition 2014 © HarperCollins Publishers 1991, 1994, 1998, 2000, 2003, 2006, 2007, 2009, 2011, 2014
Grease cup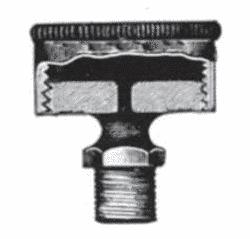 An assembly comprised of a small metal cup with internal threads that could be screwed down over a threaded base plate that was screwed into the housing of the mechanism to be greased (usually a bearing). The cup was packed with grease. When screwed down it forced the grease through a hole in the base plate and into the mechanism to be greased. Grease cups have largely been replaced by Zerk fittings and a grease gun that can force grease under pressure into the Zerk fitting and thence into the bearing. The means to inject grease under pressure using a gun and Zerk or comparable fitting was often called an
Alemite
system.
1001 Words and Phrases You Never Knew You Didn't Know by W.R. Runyan Copyright © 2011 by W.R. Runyan