ice tongs
Also found in:
Thesaurus
,
Encyclopedia
.
Ice tongs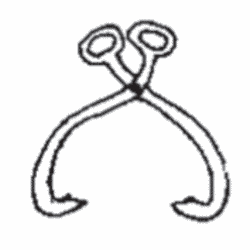 When iceboxes were used that required blocks of ice for cooling, ice was generally sold in blocks weighing twenty-five, fifty, or one hundred pounds. Ice tongs were used to grip those blocks when they were to be moved.
1001 Words and Phrases You Never Knew You Didn't Know by W.R. Runyan Copyright © 2011 by W.R. Runyan
Thesaurus
Antonyms
Related Words
Synonyms
Legend:
Noun
1.
ice tongs - tongs for lifting blocks of ice

pair of tongs

,

tongs

- any of various devices for taking hold of objects; usually have two hinged legs with handles above and pointed hooks below
Based on WordNet 3.0, Farlex clipart collection. © 2003-2012 Princeton University, Farlex Inc.