lamp chimney
Also found in:
Thesaurus
.
lamp chimney
n
a glass tube that surrounds the wick in an oil lamp
Collins English Dictionary – Complete and Unabridged, 12th Edition 2014 © HarperCollins Publishers 1991, 1994, 1998, 2000, 2003, 2006, 2007, 2009, 2011, 2014
Lamp chimney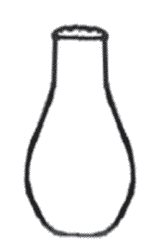 The glass enclosure around the flame of a coal oil light. It kept wind from blowing out the flame and provided a means for the hot air from the flame to rise and draw fresh air into the lamp and flame.
1001 Words and Phrases You Never Knew You Didn't Know by W.R. Runyan Copyright © 2011 by W.R. Runyan
Thesaurus
Antonyms
Related Words
Synonyms
Legend:
Noun
1.
lamp chimney - a glass flue surrounding the wick of an oil lamp

flue

- a conduit to carry off smoke
Based on WordNet 3.0, Farlex clipart collection. © 2003-2012 Princeton University, Farlex Inc.