monkey wrench
(redirected from monkey wrenches)
Also found in:
Thesaurus
,
Encyclopedia
.
monkey wrench
n.
1. A hand tool with adjustable jaws for turning nuts of varying sizes.
2.
Informal
Something that disrupts:
He threw a monkey wrench into our plans.
---
[Origin unknown.]
monkey wrench
n
(Tools) a wrench with adjustable jaws
mon′key wrench`
n.
1. a wrench having an adjustable jaw for grasping nuts of different sizes.
2. something that interferes.
Monkey wrench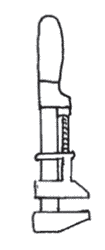 One of the few types of wrenches found on most early-twentieth-century farms. Its jaws were at right angles to the handle. One jaw was adjustable. The other, much heavier and at the end of the handle, was often used as a hammer. Charles Moncky apparently invented the wrench sometime before 1860.
Thesaurus
Antonyms
Related Words
Synonyms
Legend:
| | | |
| --- | --- | --- |
| Noun | 1. | monkey wrench - adjustable wrench that has one fixed and one adjustable jaw |