pinafore
Also found in:
Thesaurus
,
Wikipedia
.
pin·a·fore
(pĭn′ə-fôr′)
n.
A sleeveless garment similar to an apron, worn especially by small girls as a dress or an overdress.
---
pinafore
(

ˈpɪnəˌfɔː

)

n

1. (Clothing & Fashion) chiefly Brit an apron, esp one with a bib

3. (Clothing & Fashion) chiefly US an overdress buttoning at the back

[C18: from pin + afore]
pin•a•fore
(ˈpɪn əˌfɔr, -ˌfoʊr)
n.
a sleeveless, apronlike garment usu. having buttons or a sash at the back, worn by girls and women over a dress or with a blouse.
[1775–85; earlier pin-a-fore, i.e., an apron pinned in front]
pin′a•fored`, adj.
Pinafore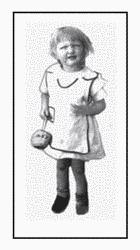 A full-length apron to protect the front of a girl's dress. Pinafores were usually very plain, but sometimes mothers would embellish them with colored tape (as was the one on the little girl shown here) or other simple decorations.
Thesaurus
Antonyms
Related Words
Synonyms
Legend:
| | | |
| --- | --- | --- |
| Noun | 1. | pinafore - a sleeveless dress resembling an apron; worn over other clothing |
propínací šatyšatová sukněšatová zástěra
børneforklædespencerspencerkjole
esiliina
pregača
gyermekkötény
ermalaus skokkursvunta
エプロン
어린이용 앞치마
prijuostėlė
priekšautssarafāns
šatová zástera
förkläde
เสื้อไม่มีแขนใช้ใส่ทับเสื้อตัวใน
áo choàng
pinafore
[ˈpɪnəˌfɔːʳ]
n
(
apron
) →
grembiule
m
pinafore
(

ˈpinəfoː

) noun

1.

a kind of apron covering the clothes above and below the waist.

The children wore pinafores at nursery school.

voorskoot

مِئْزَر يُلْبَس فَوقَ الثِّياب

престилка

bata

šatová zástěra

das Lätzchen

børneforklæde

ποδιά, μπροστέλα delantal

pudipõll

پیش بند

esiliina

tablierסינר

बच्चों के कपड़ों के ऊपर का कपडा़

dječja pregačica

(gyermek)kötény

celemek

(barna)svunta

grembiule

エプロン

앞치마

prijuostė, prijuostėlė, seilinukas

priekšauts

apron

schortbarneforklefartuszek

مخ تړ (هغه زړوكى چې وړونه دجامو دپاسه وراغوستل كيږي چې جامې يې خيرنې نشي

bata

şor­­ţuleţ

передник

šatová zástera

otroški predpasnik

radna kecelja

[skydds]förkläde

เสื้อผ้ากันเปื้อนของเด็ก

önlük

圍兜

фартух

ايک طرح کا پيش بند جسے بچوں کے کپڑوں کے اوپر پہنايا جاتا ہے

áo choàng không tay

围涎

2.

(

also pinafore dress

.

American ˈjumper) a kind of dress with no sleeves, designed to be worn over a blouse, sweater etc.

voorskootrok

ثَوْب بِدون أكمام يُلْبَس فَوق البلوزه

сукман

vestido sem mangas

propínací šaty

das Trägerkleid

spencerkjole

μπλούζαpichi

pihtseelik

روپوش بی آستین

liivihame

robe-chasubleאפודה

ब्लाउज या स्वेटर के उपर पहना जाने वाला कपड़ा

zaštitna haljinica za igru

kötényruha

gaun yang di dalamnya memakai blus

ermalaus skokkur

scamiciato

エプロンドレス

소매 없는 원피스

liemenė

sarafāns

baju pinafor

boezelaarspenserkjole

bezrękawnik

مخ تړ (هغه زړوكى چې وړونه دجامو دپاسه وراغوستل كيږي چې جامې يې خيرنې نشي

saia de corpo

сарафан

šatová sukňa / zástera

ženska obleka brez rokavov

haljina bez rukava

förkläde

เสื้อไม่มีแขนใช้ใส่ทับเสื้อเสื้อตัวใน

askılı kolsuz giysi

圍裙

сарафан

ايک بے آستين کا لباس جو بلاؤز يا سويٹر کے اوپر پہنا جائے

áo choàng mặc ngoài

围裙