washboard
(redirected from washboards)
Also found in:
Thesaurus
,
Encyclopedia
.
wash·board
(wŏsh′bôrd′, wôsh′-)
n.
1.
a. A board having a corrugated surface on which clothes can be rubbed in the process of laundering.
b. Music A similar board used as a percussion instrument.
2. A board fastened to a wall at the floor; a baseboard.
3. Nautical A thin plank fastened to the side of a boat or to the sill of a port to keep out the sea and the spray.
adj.
Having rows of ridges or indentations similar to those of a washboard:
washboard abs; a washboard dirt road.
American Heritage® Dictionary of the English Language, Fifth Edition. Copyright © 2016 by Houghton Mifflin Harcourt Publishing Company. Published by Houghton Mifflin Harcourt Publishing Company. All rights reserved.
washboard
(

ˈwɒʃˌbɔːd

)

n

1. (Clothing & Fashion) a board having a surface, usually of corrugated metal, on which esp formerly, clothes were scrubbed

2. (Instruments) such a board used as a rhythm instrument played with the fingers in skiffle, Country and Western music, etc

4.

(Nautical Terms)

nautical

a. a vertical planklike shield fastened to the gunwales of a boat to prevent water from splashing over the side

b. Also called: splashboard a shield under a port for the same purpose

Collins English Dictionary – Complete and Unabridged, 12th Edition 2014 © HarperCollins Publishers 1991, 1994, 1998, 2000, 2003, 2006, 2007, 2009, 2011, 2014
wash•board
(ˈwɒʃˌbɔrd, -ˌboʊrd, ˈwɔʃ-)
n.
1. a rectangular board or frame, typically with a corrugated metallic surface, on which clothes are rubbed in the process of washing.
2. a baseboard around the walls of a room.
3. a thin, broad plank fastened to and projecting above the gunwale or side of a boat to keep out the sea.
adj.
4.
resembling a washboard in being hard and ripply:
washboard abs.
Random House Kernerman Webster's College Dictionary, © 2010 K Dictionaries Ltd. Copyright 2005, 1997, 1991 by Random House, Inc. All rights reserved.
Washboard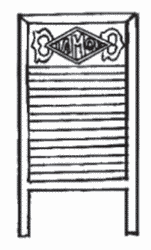 A wooden frame with horizontal metal ribs running across it that clothes were rubbed against during washing. This method superseded the use of rocks to beat the clothes, and was used until the agitator method of washing was introduced.
1001 Words and Phrases You Never Knew You Didn't Know by W.R. Runyan Copyright © 2011 by W.R. Runyan
Thesaurus
Antonyms
Related Words
Synonyms
Legend:
Noun
1.
washboard - device consisting of a corrugated surface to scrub clothes on

device

- an instrumentality invented for a particular purpose; "the device is small enough to wear on your wrist"; "a device intended to conserve water"

2.
washboard - protective covering consisting of a broad plank along a gunwale to keep water from splashing over the side
Based on WordNet 3.0, Farlex clipart collection. © 2003-2012 Princeton University, Farlex Inc.